Whenever Phil and I went to Daikichi's in his town Tokishi, there were a few standard dishes that we often ordered. And, because it was an izakaya (Japanese pub), it meant that there was lots of delicious food on sticks.
I really, really miss Daikichi's. In fact,
about a year ago
(almost to the day!), I said about the same thing.
It was a hole in the wall, the guys who ran the place smoked over the food as they grilled it, its tiny booths and stools were often packed with drunk salarymen and attractive young women (who were probably not their wives) and we enjoyed copious amounts of sake, beer and meat on sticks.
We occasionally got eggplant and onion too... but mostly we ordered meat on sticks.
Until recently, I haven't tried to recreate Daikichi's. Anything I do won't live up to the memory in my mind.
Anyway, we always got the chicken-cheese (grilled chicken thighs with a cheese slice on top and special mildly spicy sauce) and the aspara-bacon (grilled bacon wrapped asparagus), and usually got another dish,
tsukune
.
I attempted those this week, and they're about as authentic as they're going to get given that:
a) I'm not chain smoking over the skewers and
b) I don't have a grill
Tsukune
(つくね)
are essentially very smooth chicken meatballs seasoned with ginger, sesame and green onion, dipped repeatedly in
tare
(垂れ) and grilled until dry in between dips.
Tare
is basically the awesome older brother of the insipid teriyaki sauce we have here.
When I moved to Japan and asked about buying teriyaki sauce in the grocery store, I was met by a round of blank stares. Ask for
tare
.
Better yet, don't buy it from the grocery store. It's dead easy to make.
Now, I like my
tsukune
well browned with the tare. Those found at Daikichi's tend to be less assertive. Also, I have yet to perfect the art of perfectly spherical meatballs.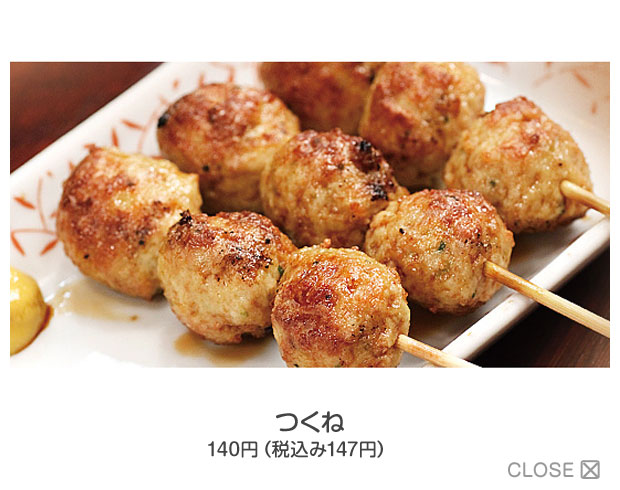 Daikichi's tsukune
Anyway, you can see where the inspiration was and where I ended up, and frankly, I'm really happy with this recipe!
Here are a few pictures of our favourite joint:
A friend outside Daikichi
Inside our Daikichi's
My very young, red faced, and hairier husband fans the grilled goods.
I heard that, after we left Japan, the Daikichi's in Phil's neighbourhood closed down. Clearly our consumption of sake and food on sticks kept the place afloat!
Tsukune: Grilled Chicken Meatballs
(from Hiroko Shimbo's Japanese Kitchen)
Ingredients
1 lb ground chicken or turkey
½ tsp kosher salt
½ tsp finely ground black pepper
2 green onions, both green and white parts, minced
1½ tsp freshly grated ginger
1 egg white, lightly beaten
2 tsp sesame oil
1 tbsp canola oil
sansho pepper (optional)
tare sauce (recipe below)
Directions
1. Begin by soaking 8 bamboo skewers in water for 15 minutes. Set aside.
2. Using a food processor, pulse ground chicken until it forms a coarse paste. Add in salt and black pepper, and pulse again. Alternatively, you can use your hands to squeeze the mixture over and over again (we're talking a good 5 minutes or so) and it'll achieve similar results. Remove mixture from food processor, stir in ginger and green onions. Once they are evenly distributed, mix in the egg white and sesame oil. Divide the mixture into 16 evenly sized balls.
3. Heat 1 tbsp canola oil in a large, non-stick frying pan. Working in batches, cook tsukune for 1 minute or so on each side or just until they're white and firm. You don't actually want to finish cooking them at this stage; you'll finish them off either on the grill or beneath the broiler.
4. Heat the grill on medium high heat or turn on your oven's broiler, making sure the rack is placed about 3-4" below the element. While you're waiting for it to heat up, remove bamboo skewers from water, and thread 2 tsukune onto each. Once your cooking medium is hot, grill or broil the tsukune, for 1 minute. Flip over and repeat on the other side.
5. Once
tsukune
have been cooked on each side, flip again, and brush with
tare
. Place back on grill or under broiler and cook until dry, about 1 minute. Remove, flip and brush again with
tare
. Repeat this procedure once more on each side of the
tsukune
, ensuring the balls are dry before applying the next coating of
tare
.
Serve piping hot with a sprinkle of sansho pepper.
Tare: Basting sauce for Yaki-tori
Ingredients
¼ cup sake
1/3 cup + 2 tbsp mirin
1 tbsp granulated sugar
1/3 cup + 2 tbsp soy sauce
optional: add in one dried shiitake mushroom
Directions
1. In a small pot, bring sake and mirin to a boil. Add in the sugar. Cook, stirring until sugar is dissolved. Add the soy sauce (and the mushroom if using) and bring to a boil. Reduce heat and simmer for 30 minutes. Sauce will be thick and glossy. Remove mushroom (feel free to eat it, it's super tasty) and use right away or keep in the fridge for up to a month.